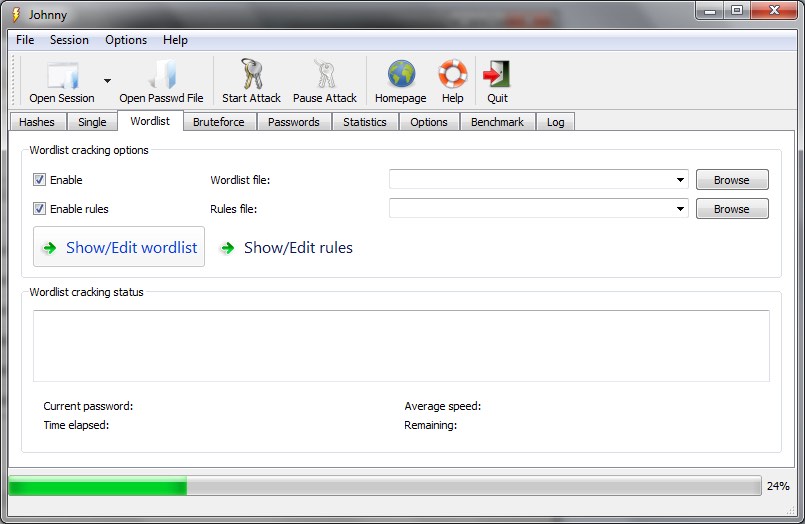 A powerful network analysis framework that is much different from the typical IDS you may know.
Brute-Force Nearly Any Website Login with Hatch [Tutorial]
An interactive reference tool to help security professionals utilize useful payloads and commands. Retrieves the browse list ; the output list contains computer names, and the roles they play in the network. Brute-force attack that supports multiple protocols and services. A tool designed for auditing the cryptography container security in PKCS12 format. Try to find the password of a LUKS encrypted volume. Try to find the password of a file that was encrypted with the 'openssl' command.
Try to find the password of an encrypted Peercoin or Bitcoin,Litecoin, etc Penetration testing tool that automates testing accounts to the site's login page. Brute-Forcing from Nmap output - Automatically attempts default creds on found services. A simple sshd password bruteforcer using a wordlist, it's very fast for internal networks. It's multithreads. Automatically brute force all services running on a target. One of the fastest, most flexible remote password crackers you can get your hands on. Blind SQL injection exploitation tool written in ruby.
Bruteforces the Passkey and the Link key from captured Pairing exchanges. Man in the Middle analysis tool for Bluetooth. A closed loop, high-performance, general purpose protocol-blind fuzzer for C programs. An integrated platform for attacking web applications free edition. Find emails of a person and return info associated with them.
Provide an open source framework for automated botnet monitoring. A display-oriented editor for binary files operate like "vi" editor.
convert swf to mp4 mac free no watermark?
hinh nen mac dinh iphone 5 hd;
Brute force facebook password cracker - Google Документи!
Password Hacking Tools & Software Used By Cyber Professionals in .
free noise reduction plugin for mac!
Automates password cracking tasks using optimized dictionaries and mangling rules. Firewall bypass script based on DNS history records. Vulnerability scanner and information gatherer for the Concrete5 CMS.
Post navigation
Hacks its way into RTSP videosurveillance cameras. A tool which will analyze the CAM table of Cisco switches to look for anamolies. Security analysis toolkit for proprietary car protocols. Maltego rapid transform development and execution framework. Framework for black-box CAN network analysis.
How to Hack Facebook Account – Working Methods of 12222
Lightweight multi-platform, multi-architecture disassembly framework. Intends to sensibilise manufacturers of carkits and other Bluetooth appliances without display and keyboard for the possible security threat evolving from the use of standard passkeys. The little brother to Maltego without transforms, but combines graph and link analysis to examine links between manually added data to mind map your information.
An application to query the canary. Crawl the graph of certificate Alternate Names. Tool that generates a PHP capable of run a custom binary like a meterpreter or a bash script p. A freeware tool to trace tcp, udp etc. Allows two peers behind two separate NATs with no port forwarding and no DMZ setup on their routers to directly communicate with each other. Chrome web browser decoder tool that demonstrates recovering passwords.
A very simple way to find out which SSL ciphersuites are supported by a target. A CLI tool for encoding, decoding, encryption, decryption, and hashing streams of data. Perl script which scans cisco routers for common vulnerabilities. Checks for default passwords, easily guessable community names, and the IOS history bug. Includes support for plugins and scanning multiple hosts. Tools to copy and merge Cisco Routers Configuration. Cisco Torch mass scanning, fingerprinting, and exploitation tool. Crypt and decrypt the cisco enable 5 passwords.
Crypt and decrypt the cisco enable 7 passwords. Scans class A, B, and C networks for cisco routers which have telnet open and have not changed the default password from cisco. Drag and Drop ClickJacking exploit development assistance tool. Vulnerability Static Analysis for Containers. This is a utility to parse a Clam Anti Virus log file, in order to sort them into a malware archive for easier maintanence of your malware collection.
A tool that checks Cloudflare enabled sites for origin IP leaks. Python script to bypass cloudflare from command line. Built upon cfscrape module. A simple tool to find origin servers of websites protected by CloudFlare with a misconfiguration DNS. Automates the fingerprinting, reconnaissance, and exploitation phases of an application server attack. A tool for enumerating the code caves in PE files. Designed to reveal the specific modules, plugins, components and themes that various cms driven websites are running. Fuzzer for wordpress, cold fusion, drupal, joomla, and phpnuke. A python open source Content Management System scanner that automates the process of detecting security flaws of the most popular CMSs.
Leverages publicly available datasets from Google BigQuery to generate wordlists. A collection of tools for pentester: LetDown is a powerful tcp flooder ReverseRaider is a domain scanner that use wordlist scanning or reverse resolution scanning Httsquash is an http server scanner, banner grabber and data retriever. A blackbox vulnerability scanner for the Concre5 CMS.
An auditing tool for Wi-Fi or wired Ethernet connections. Fast CORS misconfiguration vulnerabilities scanner. Capture all RabbitMQ messages being sent through a broker. Simple script that looks for administrative web interfaces. Web recon tool find temporary files, parse robots. A python tool to extract various credentials and secrets from Windows registry hives.
The Credential mapper - Tool that was created to bring awareness to the dangers of credential reuse. A geolocation information gatherer. Offers geolocation information gathering through social networking platforms.
How to Hack Facebook & Gmail Accounts Owned by MacOS Targets « Null Byte :: WonderHowTo.
How to Hack Facebook Password with Phishing?;
mac mini pink screen hdmi!
Tool to perform brute force attacks on ssh, smtp, facebook and Instagram- brut3k1t.
Tools in BlackArch.
van de sa mac hoa o viet nam.
An interactive crib dragging tool for cryptanalysis on ciphertext generated with reused or predictable stream cipher keys. A python script for testing CRLF injecting issues.
How to Hack Facebook Account – Working Methods of | SecurityEquifax.
adidas t mac 5 retro!
Using Burp to Brute Force a Login Page | Burp Suite Support Center?
mit mac auf ntfs festplatte schreiben.
10 Best Password Cracking Tools Of 2016 | Windows, Linux, OS X.
disque dur externe pour mac os x?
The truth about Facebook password hacking / cracking;
LinkedIn enumeration tool to extract valid employee names from an organization through search engine scraping. A brute forcing tool that can be used during penetration tests. It is developed to support protocols that are not currently supported by thc-hydra and other popular brute forcing tools. A modular framework designed to automate the penetration testing of wireless networks from drones and such unconventional devices.
High performance multihash brute forcer with CUDA support. Worlds fastest WPA cracker with dictionary mutation engine. A tool to perform local searches for known vulnerabilities.
https://workcusuli.tk
Password Cracker: 15 Best Password Cracking and Hacking Tools
The goal of cvechecker is to report about possible vulnerabilities on your system, by scanning the installed software and matching the results with the CVE database. A stealth backdooring tool, that inject backdoor's shellcode into an existing process. A tool to perform higher-order correlation power analysis attacks CPA.
A tool written in python that leverages bing for mining data on systems that may be susceptible to SQL injection. Python script that performs dork searching and searches for local file inclusion and SQL injection errors.
Popular Topics
This tool will try to find every website that host at the same server at your target. Network statistics gatherer packet sniffer. A proxy which allows you to intercept TLS traffic in native x86 applications across platform. Fingerprints servers, finds exploits, scans WebDAV. Tests WebDAV enabled servers by uploading test executable files, and then optionally uploading files which allow for command execution or other actions directly on the target.
A static analysis security scanner for ruby written web applications. A Netcat-clone, designed to be portable and offer strong encryption. It runs on Unix-like operating systems and on Microsoft Win A Java tool that allows you to perform online audits of password quality for several database engines.
Brute force facebook password cracker mac
Brute force facebook password cracker mac
Brute force facebook password cracker mac
Brute force facebook password cracker mac
Brute force facebook password cracker mac
Brute force facebook password cracker mac
---
Copyright 2019 - All Right Reserved
---